As a commitment of the Company or PT Tanjungenim Lestari Pulp and Paper (PT. TeL) through The Tanjung Enim Lestari Education Foundation (YPTeL) to support education and improve the quality of education for employees children and the community around the mill.
Admission of New Students (PPDB)
At the end of each year the lesson conducts New Student Admissions (PPDB) online. Admission of New Learners for the 2021/2022 school year has been held from May to June 2021 in each school.
PG/TK Lematang Lestari
Registration starts on April 19-23, 2021 and the announcement of students received at PG/TK Lematang Lestari has been completed on April 27, 2021 online in https://sites.google.com/view/pgtkll with the number of Students Newly received at PG/TK Lematang Lestari 2021/2022 lesson year as many as 57 children with composition: Employees' children 16% and 64% children from the community around PT.TeL.
SD Lematang Lestari
School Year 2021/2022 re-open new student registration for class I conducted online through https://sites.google.com/view/sdlematanglestari.
Prospective new students who were declared accepted have been online announced on May 31, 2021 with the composition of new students in the 2021/2022 school year are 34% of Employees' children and 66% of the community's children.
The re-register process has been implemented on June 2 – 4, 2021. Prospective students of SD Lematang Lestari will participate in the preparation period of school environment introduction (MPLS) on July 12, 2021.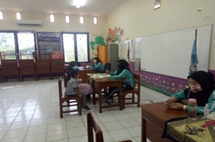 Lematang Lestari Junior High School
Lesson Year 2021/2022 re-open new student registration for class VII conducted online through the web: http://smplematanglestari.sch.id /ppdb
The registration process is divided into 2 stages. For stage 1 (reserved for children of PT TEL employees) opened on 24 – 27 May 2021 and announced on May 31, 2021. Re-registration on June 2-3, 2021. Stage 2 (for the communities) was held on 21 – 24 June 2021. Through the selection of a minimum score of 80.00 followed by an academic test on July 1, 2021 and interviews. Final results announced on July 6, 2021.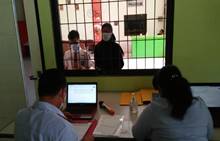 The need for the importance of education is accommodated by PT TeL by providing quality educational facilities and supporting various forms of educational activities aimed to build a comprehensive human resource for workers' children and the community.
This is in line with the Company's vision to achieve sustainable growth in the pulp and paper industries and operate harmoniously with all the interests to create long-term prosperity and a better quality of life.
Some of the Education programs that have been conducted by CSR of PT TeL include:
Scholarship program for children from villages around the company for education level D3 at ATPK (Academy of Pulp and Paper Technology) Bandung (Class of 2008 = 3 people, 2010 = 6 people, 2011 = 3 people and 2016 = 4 people) and Sriwijaya Polytechnic – Palembang (2016 = 5 people, 2017 = 10 people, and 2018 = 5 people). After graduation, the recipient of this scholarship is also a service bond and recruited as a worker of PT TEL.
School supplies program
(bags,books,and stationery) for elementary and high school students in 28 villages area 1-3 and non-area villages around the company.
The establishment of YPTeL was originally intended to meet the need for education for the children of PT TeL employees. And in its journey, the school under YPTeL is not only intended for the children of PT TeL employees, but also for community children from the village around the school. Even today the composition of the number of community children accommodated in YPTeL schools reaches 66%.
All school supplies and expenses are financed by companies through the Bos Foundation and Fund, so there are no costs incurred by the parents of the students.
The number of students in May 2021, 168 kindergarten students with a total of 11 classes, 614 elementary school students with a total of 21 classes and 289 junior high school students with a total of 9 classes. Graduates of Lematang Lestari students have spread in various professions such as Doctors, Soldiers, Police, Civil Servants (PNS) and various other professions.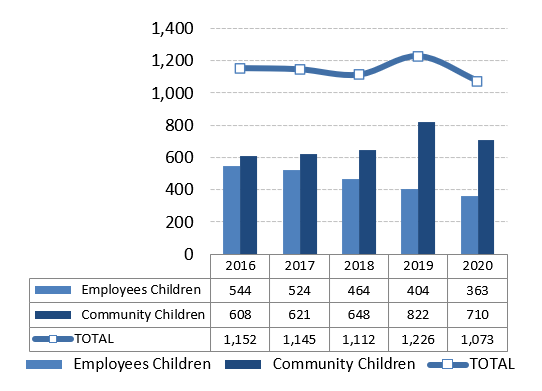 Furthermore, it is planned that the 2021/2022 school year will start on July 12, 2021 and we all pray to Allah the Almighty and hope that the COVID-19 pandemic can be controlled and we can conduct limited face-to-face teaching and learning processes in TK, SD and SMP Lematang Lestari by complying with health protocols.