Welcoming Eid al-Adha 1442 H, PT Tanjungenim Lestari Pulp and Paper (PT TEL) through CSR program distributes qurban animals (11 cows and 30 goats) to the community around the company. The handover of qurban animals was symbolically carried out on Friday, July 16, 2021 at the Belimbing Sub-District Office.
This qurban animal submission activity applies health protocols such as wearing masks and maintaining distance, as well as restrictions on the number of participants attending the symbolic event.
"Alhamdulillah, this year even during the covid-19 pandemic, PT TEL can still share with the community around the company to still be able to celebrate Eid al-Adha, by distributing qurban animals in the form of cows and goats," moch said. Amrodji, Head of Stakeholder Relation Division of PT TEL who attended the symbolic event of qurban animal distribution.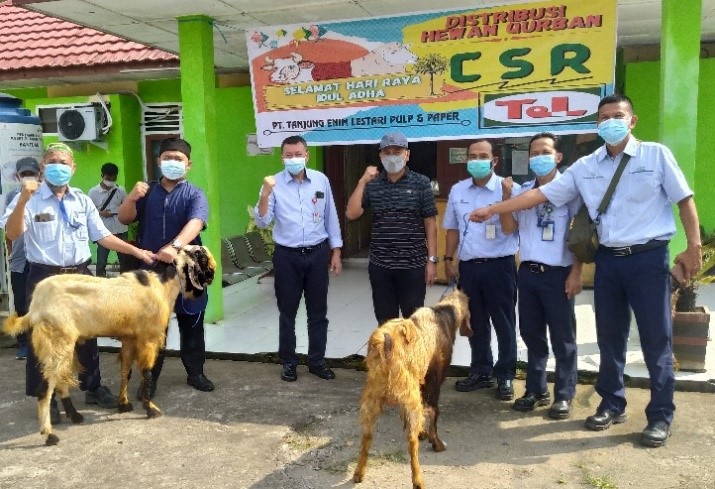 He added that the distribution of qurban animals in addition to social and environmental programs is also an event for the company's friendship to the community, village and sub-district governments around the company.
Meanwhile, Camat Belimbing, Fauzi expressed his gratitude for the Corporate Social Responsibility (CSR) activities of PT TEL and he hoped that the friendship and cooperation between PT TEL and the community and the government can be improved again.
This year, PT TEL distributed qurban animals in the form of 11 cows for the community in 8 villages 1st Ring and 3 Subdistricts (Empat Petulai Dangku, Rambang Niru, and Belimbing). As for the community in 17 villages in 2nd and 3rd Ring will be distributed qurban animals in the form of goats.