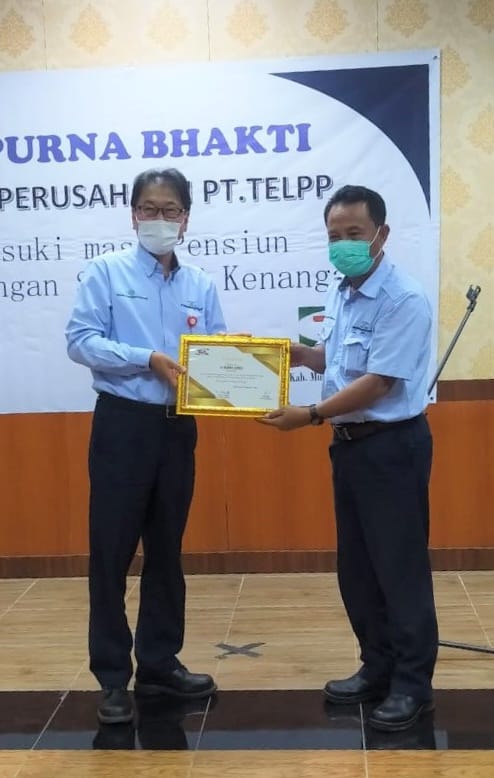 PT Tanjungenim Lestari Pulp and Paper held a graduation/release and gave appreciation and appreciation to 67 employees who have retired from January 2020 to August 2022 and who are approaching retirement Period September 2020 to March 2023.
The ceremony of handing over the retirement award which was attended by the President Director, Director of HR, CA, and Division Heads as well as related employees, was held simply in a closed, limited ceremonial event which was carried out symbolically at the Learning Center PT. Tel on September 6, 2022, to 15 employees who have and will retire at the PT.Tel company.
In his speech, Mr. Horita Takehiro as President Director of PT. Tanjungenim Lestari Pulp and Paper expresses gratitude and appreciation to retired employees for their performance, dedication, and struggles filled with joy and sorrow, and expresses the highest gratitude to their wives and families Retired workers for their enthusiasm has been given to their husbands, so that until completion of his full-time duties at the Company PT. Tel.
On the same occasion, the Director of HR, CA Mr. Agus Kafid also expressed his appreciation and sincere gratitude for the dedication, time, and hard work of all employees during their tenure. "Your role, contribution, and thoughts have been very valuable for the progress and existence of the company to date,"
The retirement period is a period that every employee will definitely go through. The release of retired employees is expected to have its own meaning that can tap our feelings and awareness as employees that retirement is a life cycle experienced by all employees. Entering retirement means giving the baton, and providing opportunities for future generations to carry on their work responsibilities.
Even though retirement has been completed at the company, but certain and believe that retirement with professionalism and existing knowledge will someday be needed at another place.
Appreciation of award to 15 retired employees who attended the ceremony this time was given directly by the President Director and the managerial ranks of PT. Tel which is not only judged by the service period of the employees but also the quality of the contribution of the employees during their work that applies the core values ​​in the company PT. Tel with the character of Fairness, Innovation, and Harmony
For retired workers who did not have time to attend the ceremony, the Appreciation will be handed over separately or sent to the home address of the person concerned.