Banuayu – PT Tanjungenim Lestari Pulp and Paper through CSR program conducts sewing training activities for the community in Banuayu Village, Tanjung Menang, and Tebat Agung. The training, which was attended by 30 participants, was held for 10 days at Banuayu Village Hall which was divided into 2 stages. Stage 1 was followed by participants from Tanjung Menang Village (10 people) and from Banuayu Village (5 people) from August 7-11, 2021.
While stage 2 (12 – 16 August 2021) followed by participants from Banuayu Village (5 people) and Tebat Agung Village (10 people). Considering the covid-19 pandemic, this activity is carried out with due regard to health protocols, such as wearing masks and maintaining distance during training.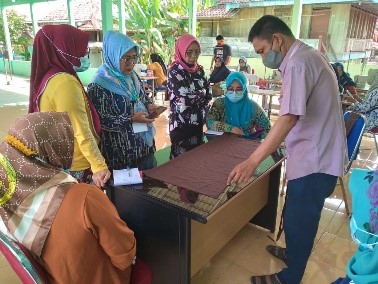 Management of PT TELPP represented by Deputy Director of Corporate Affair, Tomohiko Takahashi reviewed this training activity on Thursday, August 12, 2021 and accompanied by Azwar Hamid as Local Community Development Manager.
Delivered by Azwar Hamid, this training program is one of the implementations of one of the csr pillars in the field of community empowerment. "As a form of implementation of one of the pillars of CSR, namely community empowerment, PT TELPP in collaboration with Rumah Ekonomi Smart (RES) / Desaku Muara Enim held this sewing training program. It is hoped that with this training, people will be able to have the ability to develop their potential which is ultimately expected to improve the economy, "said Azwar during the visit.
Tomohiko Takahashi also conveyed his message to the trainees to continue practicing after participating in this training. "The material obtained from this training to continue to be honed and trained, so as not to forget and can continue to develop. Maybe it can start from making crafts, then increase sewing clothes, skirts / pants, and so on", he said.
This sewing training is expected to be continuous, therefore it is expected to be a commitment of support from the village government whose people have participated in this training.